Welcome to StephenMangan.co.uk!

This is an unofficial fansite for the brilliant comedy and stage actor probably best known for his roles in Green Wing, Episodes, The Hunt for Tony Blair, and Dirk Gently.

12th January 2013
Stephen is appearing in Shedtown on Thursdays Radio 4, and the first episode is still on iplayer. He also appeared as a guest with Simon Mayo on 9th January, and his bit can be found from 1hour in on iplayer. Or you can listen to the podcast here. Happy listening!
4th January 2013
To get the new year off to a good start, Stephen is currently recording a new series of Elvenquest due to be broadcast later this year. Tickets are still available for recordings in January and February via the BBC website!
24th December 2012
Happy Christmas and a Peaceful New Year to everyone. To get yourself in a festive spirit why not head over to 4OD and see Stephen and others in River Cottage- Three Go Mad at Christmas?
14th September 2012
More Sean, Beverley and Matt will be heading our way in 2013, as we got news this week that Episodes will be returning for a third series in 2013, filming to start in the spring.
7th July 2012
Well it has been a busy few weeks... Episodes series 2 has finished its run in the UK, but is now running on Showtime in the US. In the meantime, Stephen is busy on stage as Ed in Birthday at the Royal Court Theatre in London. Click here to find out more.
17th June 2012
Stephen talks about his parents and fatherhood in this article in the Observer.
12th May
Episodes is back on our screens on Friday evenings at last, and this week we had the added treat of Stephen's appearance on The Graham Norton Show. Catch up on iplayer.
7th May 2012
Some catch up tv for you...Stephen appeared in 8 out of 10 Cats on 4th May, and on Saturday Kitchen on 5th May.
4th May 2012
Time to book that spot on the sofa.... The new series of Episodes returns on 11th May at 10pm on BBC2. The BBC and Showtime have updated their websites with sneak previews, so take a little look to whet your appetite.
13th April 2012
Stephen hosts Have I Got News For You tonight at 9pm on BBC1. Find out more here.
24th March 2012
Getting nostalgic for the days when Dirk Gently was still on telly? Don't despair, the whole series can still be found on iplayer. If you are still looking for entertainment, Steve did his bit for Sport Relief by taking part in Only Connect, and you can still find it on iplayer.
10th March 2012
So, what did you think of episode 1 of Dirk Gently? If you missed it, you can still find it on iplayer for another couple of weeks. The Review Show review of episode 1, is on iplayer at around 32 to 38 minutes, and episode 2 is on BBC4 at 9pm on Monday 12th March.
3rd March 2012
How about a bit of light reading? Take a look at these.... Metro interview from 1st March Guardian article about Dirk Gently , a Press Association update about the part played by Stephen's hair in the film project Rush, and a quick snippet about singing in Postman Pat
26th February 2012
Are you ready? Dirk Gently returns on 5th March at 9pm on BBC4.
25th February 2012
In the build up to the return of Dirk Gently, Stephen will be appearing on the Richard Bacon show on 1st March and also on Graham Norton's Radio 2 show on 3rd March.

24th February 2012
Stephen's appearance on Would I Lie To You will be repeated on BBC1 on 4th March at 11.05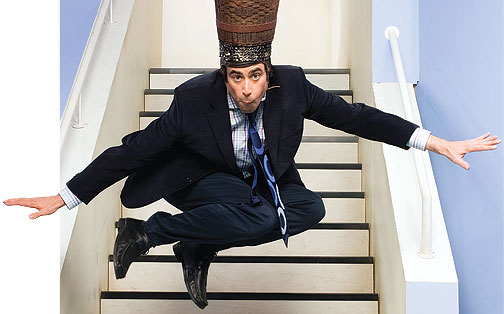 Current Projects

Elvenquest
Character:Sam
Status: in production
Released: 2013
BBC


Episodes Series 3
Character: Sean Lincoln
Status: commissioned
Premiering: 2013
Trailer//Showtime Site//
BBC Site
Rush
Character: Alastair Caldwell
Status: Post production
Release: 2013

Affiliated Sites