20th January 2016
Stephen reprising his role as Tony Blair in Comic Strip Presents "Red Top" where Tony Blair has become a rock star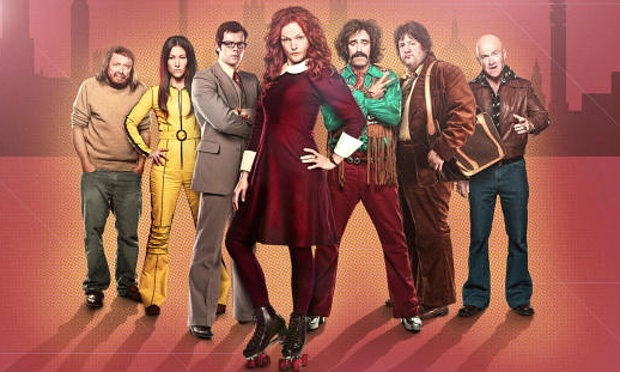 February 2016
Stephen will be seen as Sir Arthur Conan Doyle in the new TV series, Houdini & Doyle - series will be screened starting in March 2016
<
April 2016
The 5th series of Episodes will starts filming this April, so fans you won't have to wait too ling for the next series
Stephen appeared in Rules for Living, The National Theatre, South Bank London (2015) as Adam, this was funny, if messy at the end with a food fight!it was about a dysfunctional family at Christmas
Duck Quacks Don't Echo (6/1/2016) - Himself/Guest
Insert Name Here (4/1/2016) - Himself/Guest
Have I Got News For You (2015) - Himself/Presenter
Graham Norton Show (2015) - Himself/Guest
Episodes Series 3 & 4 (2013 - 2015) - Sean Lincoln
This is Jinsy S2 ep6 (2014) - Mr Lovely
Perfect Nonsense, Richmond Theatre, Duke of York's Theatre (2013-14) - Stephen was brilliant as Bertie Wooster
Rush (2013) - Alastair Caldwel
12th January 2013
Stephen appeared in Shedtown on Thursdays Radio 4, and . He also appeared as a guest with Simon Mayo on 9th January, and his bit can be found from 1hour in on iplayer. Or you can listen to the podcast here. Happy listening!
4th January 2013
To get the new year off to a good start, Stephen is currently recording a new series of Elvenquest due to be broadcast later this year. Tickets are still available for recordings in January and February via the BBC website!
24th December 2012
Happy Christmas and a Peaceful New Year to everyone. To get yourself in a festive spirit why not head over to 4OD and see Stephen and others in River Cottage- Three Go Mad at Christmas?
14th September 2012
More Sean, Beverley and Matt will be heading our way in 2013, as we got news this week that Episodes will be returning for a third series in 2013, filming to start in the spring.
7th July 2012
Well it has been a busy few weeks... Episodes series 2 has finished its run in the UK, but is now running on Showtime in the US. In the meantime, Stephen is busy on stage as Ed in Birthday at the Royal Court Theatre in London. Click here to find out more.
17th June 2012
Stephen talks about his parents and fatherhood in this article in the Observer.
12th May
Episodes is back on our screens on Friday evenings at last, and this week we had the added treat of Stephen's appearance on The Graham Norton Show. Catch up on iplayer.
7th May 2012
Some catch up tv for you...Stephen appeared in 8 out of 10 Cats on 4th May, and on Saturday Kitchen on 5th May.
4th May 2012
Time to book that spot on the sofa.... The new series of Episodes returns on 11th May at 10pm on BBC2. The BBC and Showtime have updated their websites with sneak previews, so take a little look to whet your appetite.
13th April 2012
Stephen hosts Have I Got News For You tonight at 9pm on BBC1. Find out more here.
24th March 2012
Getting nostalgic for the days when Dirk Gently was still on telly? Don't despair, the whole series can still be found on a television if you look hard enough or you can download it from the internet.
3rd March 2012
How about a bit of light reading? Take a look at these.... Metro interview from 1st March Guardian article about Dirk Gently , a Press Association update about the part played by Stephen's hair in the film project Rush, and a quick snippet about singing in Postman Pat